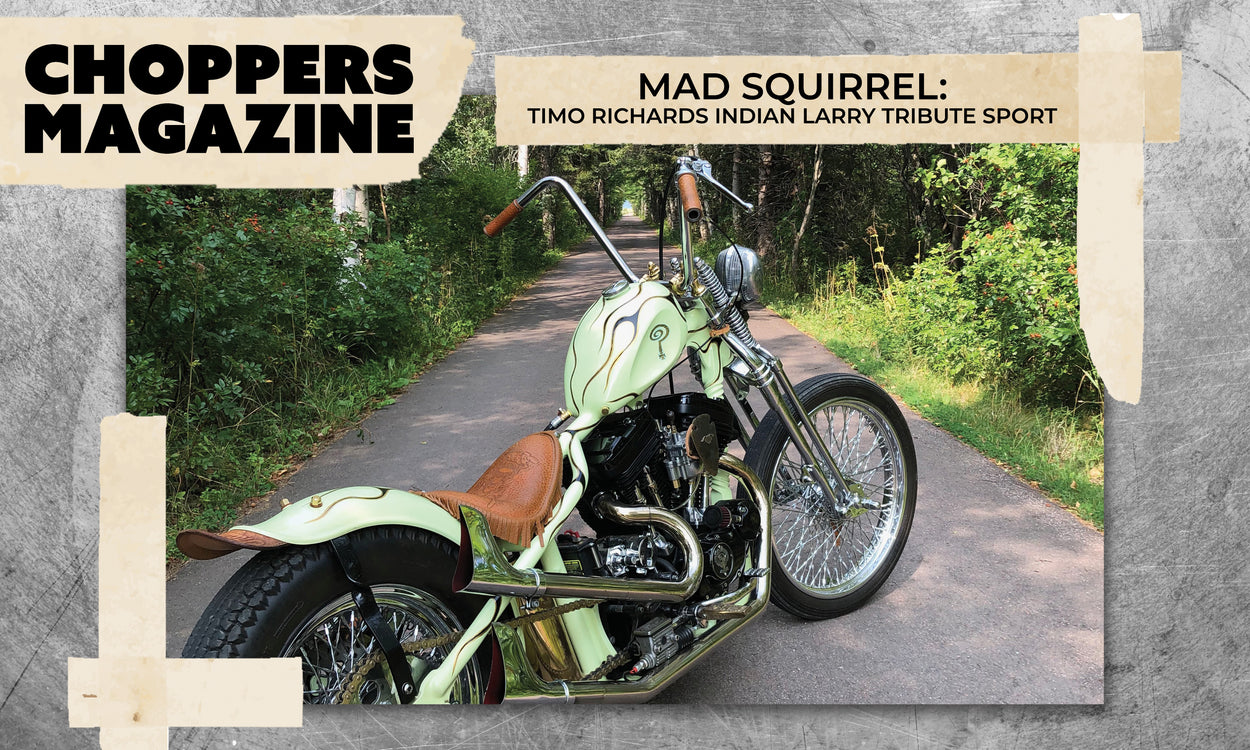 Mad Squirrel - Timo Richard's Indian Larry Tribute Sportster
One day I was scrolling Instagram and a super clean, freshly built early EVO Sportster popped up on my feed and I thought, 'Holy shit, that's a nice Sportster motor.' Then I noticed it was on the Indian Larry Page, and then I noticed it was for sale.
Obviously I'm a fan of Indian Larry. And I'm a fan of Sportsters, so I was interested. I asked my wife and she said no. I then sent a message to Bobby Seger and told him, ''I'm gonna need a little bit of time!'' After convincing my wife it was a good idea, I then got back to Bobby, struck a deal on the engine which came with the original frame, that had already been cut and hardtailed at the shop.
Before Covid, we were attending the Indian Larry Block Party every year, so Bobby kept it there for me for a bit. We took it home in the autumn of 2017. I guess that's three years ago now. I basically started planning a bike around what I had and obviously was going to try and build a Larry-style chopper out of this Brooklyn built motor.
Once I got the Sporty home, I put it on the table, planned it out, did some drawings, threw those out, did more drawings and started collecting parts. This bike wouldn't be what it is without friends. My good friend Marco swapped out some parts for a vintage brass fire extinguisher which we then cut and made into the oil bag. A Facebook follower had a brass squirrel that he wanted to give me and we used it for the shifter knob. Brian @theboneorchardcycles had made these Arrowhead air cleaners so I thought that would look nice on the bike too. We ended up bartering for the Arrowhead and a brass acorn choke lever.
Then I got a hold of Afterhours Choppers for the nipple taillight. For the bars, I reached out to Regatta Garage with some measurements and he got those bent and chromed for me. I had a set of Throwback brass risers here that Bobby had handed to me.
The motor wasn't complete. It needed some primary stuff that was all missing and it also needed a carb, intake manifold, charging system, clutch basket, etc. You know how it is. The bike came together pretty nicely with all those parts.
Look, I'm no bike builder, fabricator, or welder. I can build them on paper all day long but it also took the skills of my friend Matthew Boudreau @hiocustom. He is basically my go-to guy when it comes to fabrication & welding. Once I took it to his place, we cleaned up the frame. I then got a piece of solid square stock and we built a jig. Between a couple of buddies, some rosebud torch tips and a couple of buds, we twisted that piece of steel. If I was ever going to have a twisted downtube on a bike, this was the one.
I have a bad habit of swapping gas tanks all the time. It's a bad habit. I figured the one solution would be to weld the tank to the frame. My friends thought it was crazy but it turned out all right. I'm glad I did it and I haven't swapped the tank yet.
When it came time for paint, I chose pistachio. I know, it's a nut. I don't know where the color came from, I think I had a sample here and I liked it. I thought with the black motor it would be a nice contrast.
The build itself, took about two weeks. I then took the bike back home and molded everything. I rubbed that thing down for about, I don't know, 40 or 50 hours. We took it to Matt's father's body shop (Hio's Autobody—André Boudreau 1966-2020 RIP). He was gone hunting so we spent the weekend painting. A high build primer, followed by a base coat, black flames and gold hand-painted outlines was followed by clear coat. All of it was completed by Monday morning.
The following week the bike was assembled. Jared at @rustironcycles helped me with the wiring while Danny was busy buffing parts. Once it was completed, I decided to ride my Indian Larry Sportster to Brooklyn from Grand-Barachois New Brunswick, Canada. The plan was, and still is, to get some corporate sponsors to give me a buck a mile or whatever they choose to donate and I'm going to ride this to Brooklyn and collect funds for the Aidan Jack Seeger Foundation. https://www.aldalliance.org
Who doesn't want to ride to Brooklyn on a hardtail? Plus, it's a great way to raise funds and awareness for the foundation.
—The Squirrel
Story by The Squirrel
Photos by Julie Richard