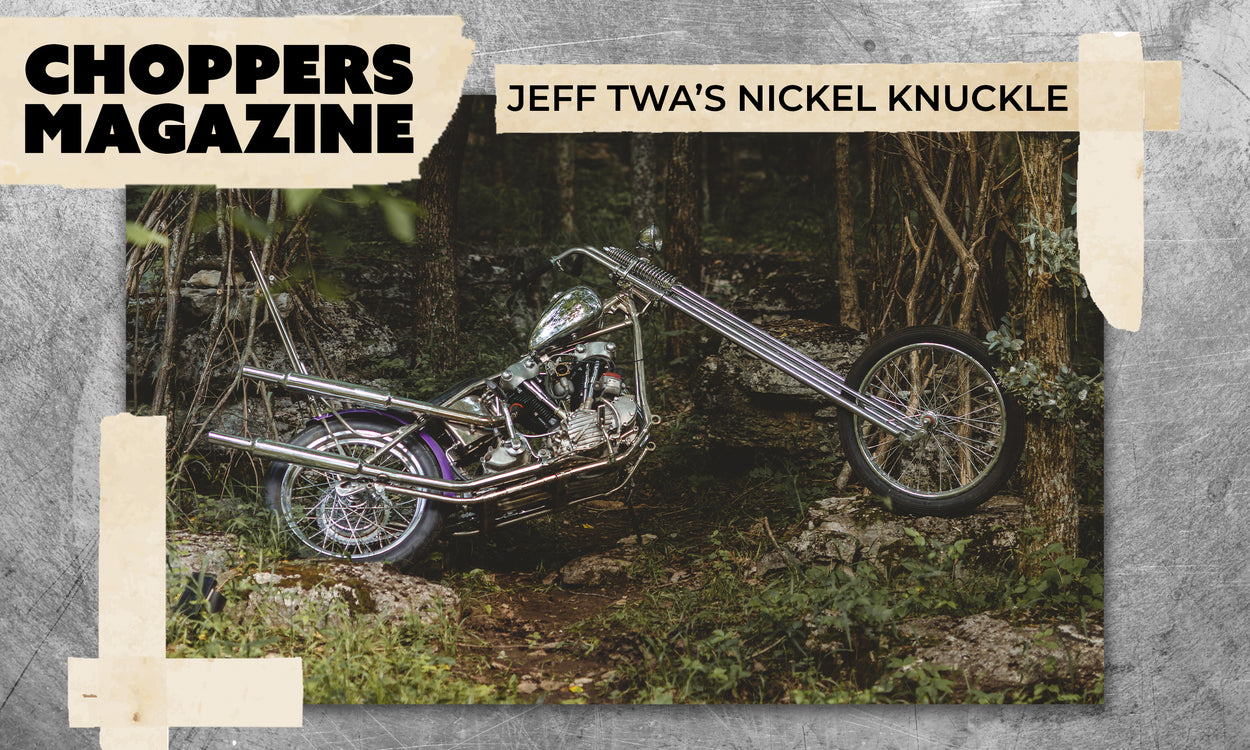 Jeff TWA's Nickel Knuckle - The Born-Again Born Free Bike
This is one of those one-in-a-million stories we all have. Somebody built some rad shit, it wound up tucked away somewhere in some guy's pad, by chance it made its way to some other guy, and then it was re-invented into something roadworthy.
That's the way the chopper universe works, sometimes. Jeff's story isn't unlike any of the others you've heard. We heard it and had a mixed reaction: one part "This lucky sonofabitch," one part "Wait, what?" and one part, "Damn that's sick."
Try not to spit your beer out over this one.
Originally, this was a show bike built by Dave Polgreen for Born Free 3. Dave did all the fabrication work himself — stretched the original Knucklehead frame up and out two inches or so, built some nice clutch and brake controls and fabricated the killer two-piece sissybar. 
If I'm not mistaken, John "Harpoon" Harpov out of Southern California did the paint. The bike originally had a dual-carb'd Knucklehead and a Harmon girder with 12-spoke American Racing magnesium wheels. It was an epic bike and build.  
Eventually, Dave parted the bike out and my friend Ryan Grossman bought the chassis from him.  Whenever I would go visit Ryan I would stay in his spare room, and leaning against the wall in that room was this epic nickel-plated chassis.  
Ryan had also gotten a 20-over Mickey's springer and a 21-inch spool wheel to go with the project, and it all sat in his spare bedroom.  Every time I would wake up in that room, usually incredibly hungover, I'd stare at that chassis and imagine how epic that bike would be. 
Then I'd harass Ryan about it, saying, "You don't want to build Dave's old bike! Think of how embarrassing that would be for you!"  Basically, I'd just sit there trying to give him a reason to sell me the project. 
That went on for about seven years. I was relentless. Every time I saw the chassis I would dig into Ryan about it, but he would always blow me off.  
Then one day out of nowhere Ryan called me up and said "You still want that Polgreen chassis?" And we finally made a deal on it.  
I was living in Nashville at the time and Born-Free Co-Founder Grant Peterson was kind enough to deliver the chassis to me on his way to The Race of Gentlemen in New Jersey. I had a 47 FL motor and 47 trans waiting and the bike came together pretty quickly.
Dave had already done all of the fabrication, so it was a pretty straightforward build. The only thing the bike was missing was the original Harpoon painted tank which was hanging on a wall in Dave's shop. 
To be honest, I didn't even make a play on the tank — I had a chrome Wassell tank hanging on my wall and knew it would look good. My friend Jeremy "Raddy" Radford helped me assemble and get the bike dialed in over a few dozen beers, and that's how the Nickel Knuckle was given a second life.