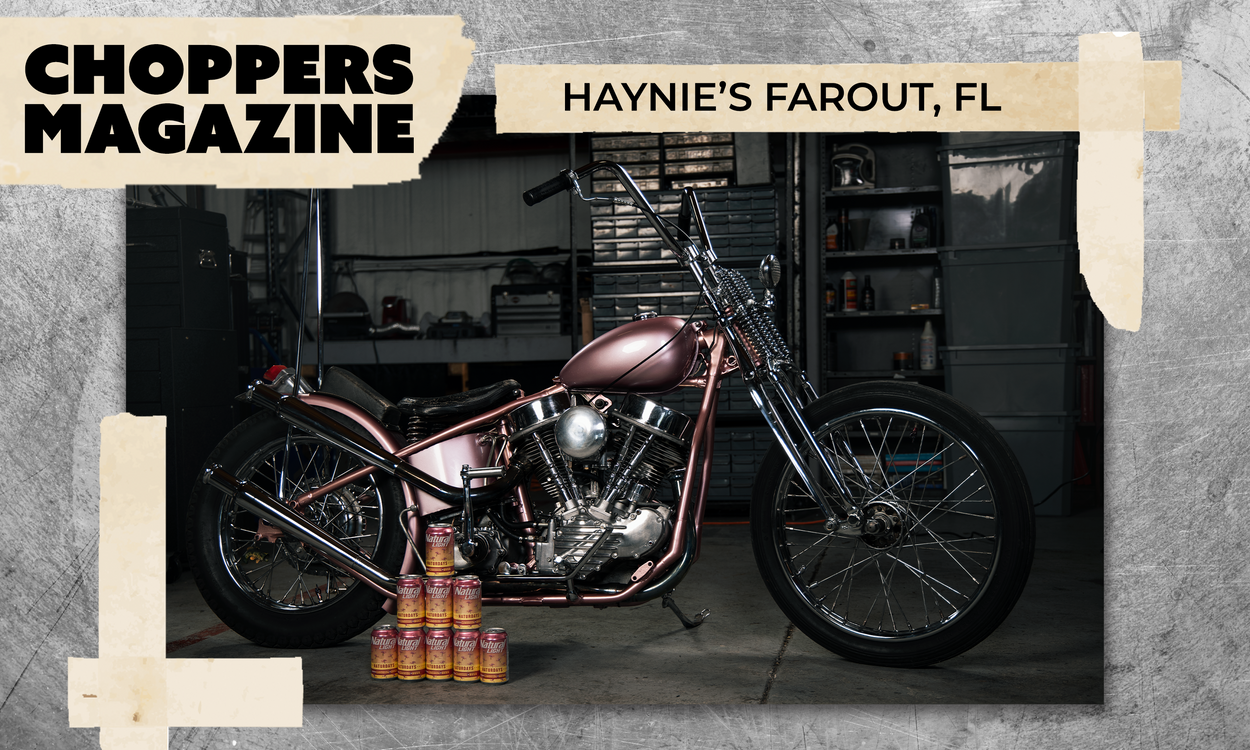 This is Justin Haynie and his 1950 FL. Justin lives in Denton, Texas. It's a town where the chopper scene is pretty slept on, but with so many here who are into these old bikes, it was easy for Justin to get inspired and have the urge to build one himself. Being an old BMXer and flat tracker, the transition was bound to happen.  Here is what Justin had to say about his beloved 1950 Harley-Davidson chopper.
It started like many, a pile of parts in the corner of my garage that took what seemed to be years to acquire. I scored the bottom end out of Killeen, Texas, on a shady Craigslist deal that worked out for the best. My good friend and extremely talented machinist/builder, Jerimiah Jurgeson of Conflict Machine, helped me get the frame. I stole the transmission off another pile that I already had. Now that I had the bones and heart, I decided I wanted it to breathe the 1960s.
I had Chopper Jon from Vintage Custom Cycle completely rebuild my engine and trans after I found out one of the rods was bent in the bottom end. It has a Wassel tank, trailer fender and an OG Bates seat paired with a River p-pad and Avons wrapped around a couple of starhub wheels. Seems to be a timeless combo. The W&W I-beam springer front end wrapped up that classic look I was going for. Twin Power/Tucker Powersports hooked me up with a one of their Clincher Clutches and, man, is that thing nice. Hex controls all around. I used the Pangea noodle puller to get the Phong pedal running right.
I bent up a sissy bar to match the hex parts I already had and it was off to the races. After putting in many hours windowing the frame and teaming up with Jerimiah, we fixed most of the stuff I didn't like. I then sent the sheeymetal off to Jorden Weaver of Weaver's Custom Paint to lay down the shiny stuff. The color was influenced by a '65 Impala Lowrider I saw and my wife agreed that it would be a good look.
This bike is my daily rider and is fun as hell to ride. I learned tons of stuff putting it together and couldn't have built a bike this nice without my friends. Jerimiah lent me his shop, tools, time and knowledge, and without his help this bike wouldn't be what it is. I'd like to say everything went smooth and I didn't run into any issues, but that wouldn't be choppin'. 
The first time I assembled it, I was still waiting on the springer from Germany to arrive, so I went ahead and put a completely different front end on it and test rode it. It seemed fine for the one or two passes I did by the shop, so I asked Jerimiah if he wanted to give it a roll as he'd been with me every step of the way. Well, long story short, the front wheel locked up, by no fault of Jerimiah's, and it got dumped. Had to repaint the tank, replace the mufflers and rechrome the controls on the right side of the bike. It was a valuable lesson about respecting a front wheel, especially an old chopper spool that I tried to retro fit. Sorry, Jerimiah.
All is well now and it looks and runs better than ever.
                  — Justin Haynie