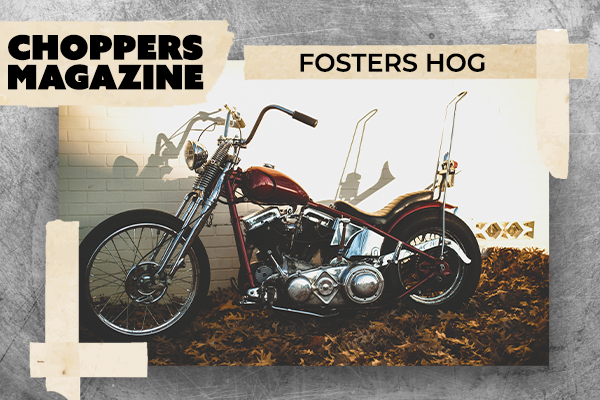 And now, a few words from Foster Eberhart.
This is my hog. There are probably a few out there like it, but this one is mine. This bike starts out where my Shovelhead left off. I have this thing where once I get attached to a machine, I'll never sell it in one piece. Don't like the idea of some joker out there riding my scooter like it's his or something. So, parted out they get. That way, each piece goes to help a brother out there build his own idea of a cool chopper.
I added what was left of my shovel to my parts pile and that would become my Panhead. I had a straight leg frame I got at the swaps, a good set of Wassell tins, Flander's bars and risers, and a shiny new inline springer. It was a good start. I just needed the right motor to get the thing rolling. Originally I had plans to build a 93-inch Shovel for it, but a stroke of good luck on Craigslist changed that. I saw an ad for a garage sale that in the list of random shit they had, was a 1956 Panhead. Couldn't fucking believe it! So I called them up and worked out a killer deal.
At the time I was working on it in my apartment garage in Phoenix. It just so happened that my neighbor Lou was restoring a Jaguar XKE in the garage next to mine. He was cool enough to show me the ropes on shooting paint and let me spray my frame and tins with his stuff.
After I got it all put back together, I didn't waste any time putting heavy miles on it. I took off up the California coastline, up in the winding mountain roads, across the desert, in the rain, you name it. I ended up back home in the great state of Texas, where I'm lucky to have a good group of friends with old hogs to go putting around and raise hell with.
I'd like to give special thanks to friends and family. Life wouldn't be what it is without y'all. 
                  — Foster Eberhart