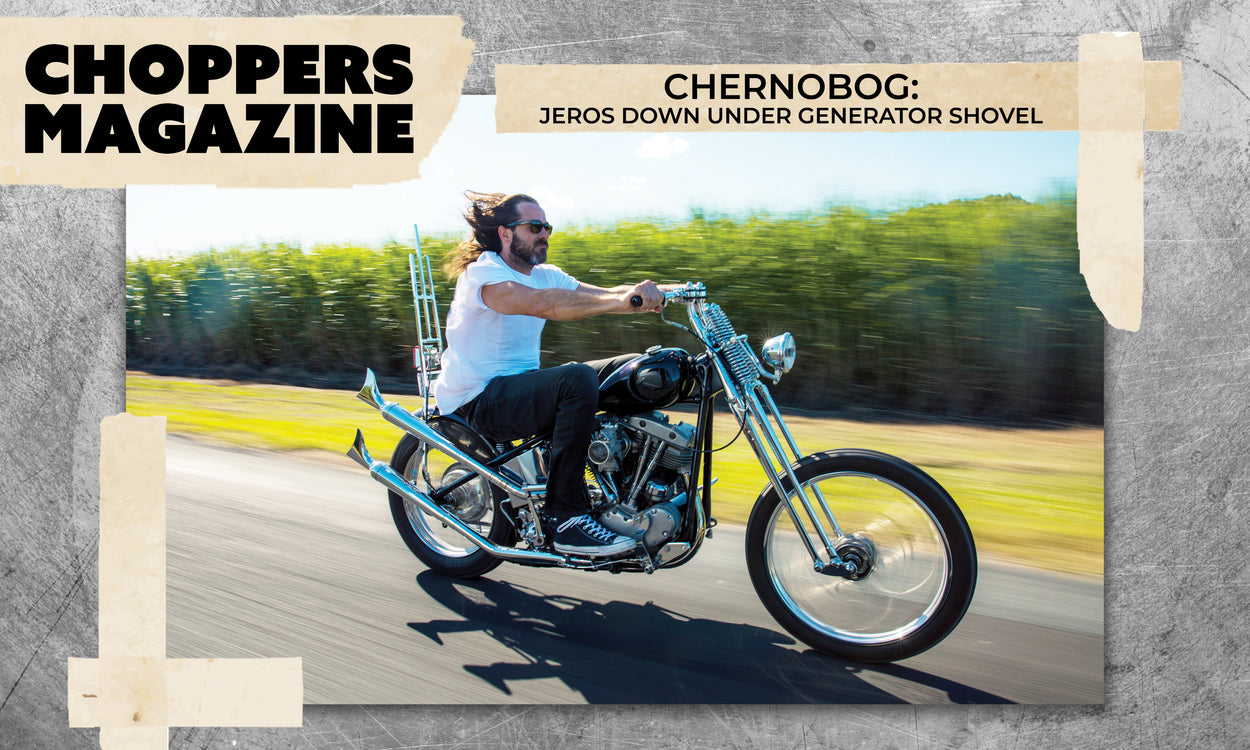 Chernobog - Jero's Down Under Generator Shovel
For this bike feature we take you to the land down under for a vegemite sandwich and a fair dinkum dip in the local lingo thanks to our mate, Jero. His de-raked Genny Shovel is right boneroo, we thinks.
Here's what he had to say about this killer choppy.
"I talked to a mate. He was selling a 1966 Genny Shovel with a Pan trans and Straightleg frame that was deraked to 28 degrees. I had an idea of the kinda bike I was gunna build, and this was a beaut start."
"I cut down some old bars and added a tall sissy. The i-beam springer and risers from PCP took yonks to rock up. Wasn't fussed, this thing was mint!
A Good bloke named Harley Rogers painted the Drews molded tank. I was going for black that shone purple in the sunlight. That's how the bike got its name."
The name of this scooter is Chernobog and for all of you out there wondering what the hell a Chernobog is, the word is proto-Slavic and means 'black god'. Apparently Chernobog is a Slavic deity who people used to drink a toast to even though he was a badass. Interestingly, Chernobog made an appearance in Disney's "Night on Bald Mountain" sequence in the film Fantasia. He's the giant, nightmarish demon thing. But now, back to Jero's story.
"Time to crack the whip and get it all buttoned up in time for the Valley Bike Show which was two weeks away. Ya know, I had three years to hoard and collect all the parts but then had to get 'er done in just two weeks. But she came together in the nick of time and she's a good runner."
"Wouldn't ya know, iffy Covid-19 lock-downs had everybody fucked. Not us though. Not this arvo. I snuck over the state border with my old mate Josh to shoot these flicks. Ya gotta love having the road all to yourself. No coldies today though. The Tumbulgum Pub was shut. Time to call it a day."
Cheers.
—Jero