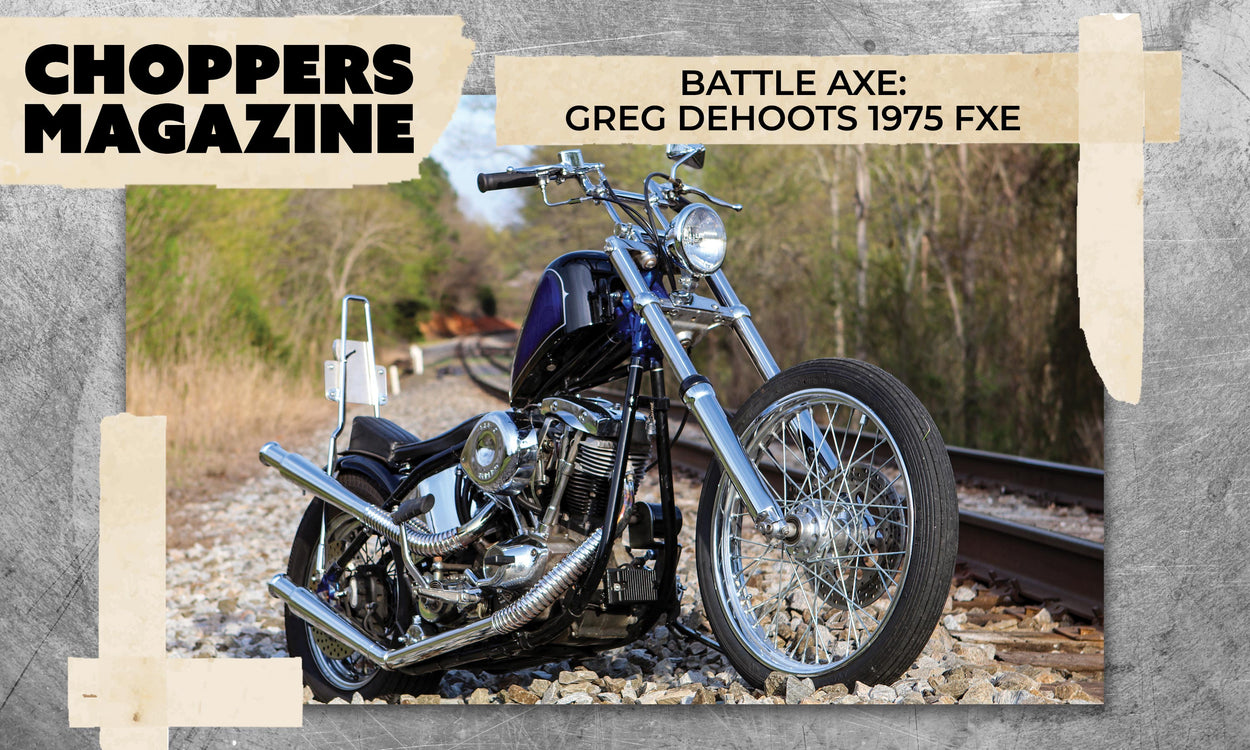 Battle Axe - Greg De Hoot's 1975 FXE
Sometimes it takes months of searching to find that one-of-a-kind motorcycle you've been dreaming of and sometimes it just takes a little bit of luck. In Greg De Hoot's case, he was searching online for a cheap BBQ grill when he stumbled across an ad for a 1975 FXE. Greg called the owner and verified that, yes, it did run and, yes, it did have a title, but was too late as someone had already scooped it up. So, Greg went back to hunting grills and forgot all about it.
A few days later, he got a call from the owner of the FXE who said the first buyer was a no show and he wanted to know if Greg was still interested. BBQ grills forgotten, Greg and his buddy Ray Alexander jumped in his truck and headed out to see the shovelhead.
The bike was just as advertised, a basically stock 1975 FXE. After a deal was struck, Greg rode it home. The initial plan was to build a swingarm chopper, but the problem was that Greg just couldn't get the right look. He tried an original Crazy Frank rear fender set up and a BMC rear fender set up before he started tearing the bike apart for a full custom build.
Greg didn't want to build just another chopper put together with off-the-shelf parts. He wanted to do as much of the work himself as possible, so to get a little extra hands on experience, he picked up a part time job at a bike shop. Soon he was swapping out ignitions and cams, working towards building a reliable drivetrain.
While the motor was going together, Greg sent the frame up to Rhett the Butcher Chop in Virginia, who built a custom rear hardtail section with panhead axle plates to replace the original swingarm and give it the look that Greg had been chasing from day one. With the frame in order, Greg took a later model Wide Glide front end and rebuilt it with 4-inch-over tubes. I got to lend a hand in shaving the lowers, but luckily, got to miss out on the ten hours of hand-polishing that Greg went through before having the lowers chromed.
The handlebars are a one-off set up from Cody James who fabricated 3-inch risers, 5-inch dogbones and 3-inch Z bars to give Greg the 11-inches he wanted without having to run a set of apehangers. The fuel tank is an original 1960s Sportster tank that Drew Baker frescoed. If you look closely you can see that he used a 1975 nickel to plug the original petcock hole.
Reece Zylstra fabricated the shifter/peg using a clever design that hid all the brackets inside the primary with only the shifter/peg exiting cleanly out of the inspection cover. Other details include hidden rear fender mounts, a Corbin solo seat and a late model Softail rear brake that only took a little massaging to fit inside the frame.
Greg and Ray spent a lot of long nights grinding, welding and fitting parts in Ray's garage before the tins and frame were finally sent to Luke Ottander in Jacksonville for some fresh paint. Now I may be a little biased here, because Luke painted my '33, but as you can see from the photos, the work he did on Greg's bike is phenomenal.