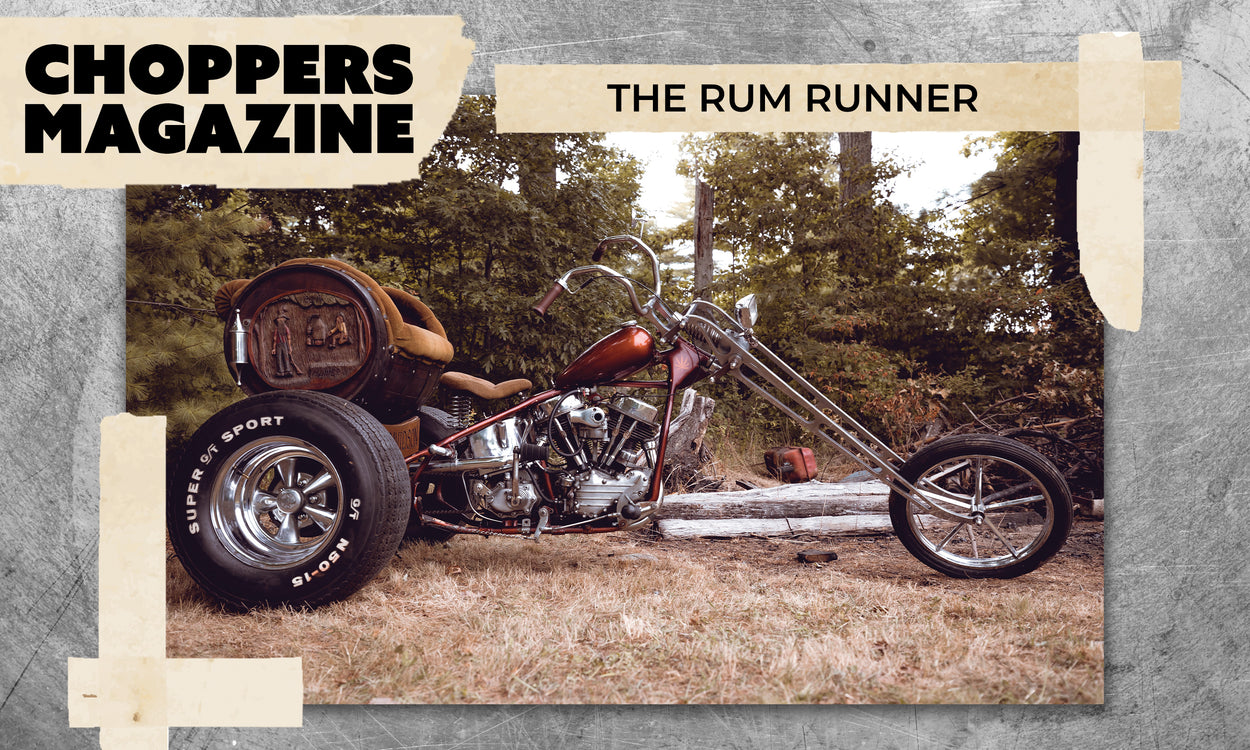 My part of this trike's story goes back some years ago when I acquired the rolling chassis from my homie Junior Combs out in Indiana. He had bought it out of a storage unit in Chicago to pull the OG Knucklehead out of it and told me that she had last been seen at the Chicago World of Wheels Show sometime in the early 1980's. Now, I love Knuckles just as much as anyone, but that motor didn't matter to me; I had mucho desire and grand plans for this dreamily idiotic chas­sis. I had been wanting a crazy throwback trike forever, and figured one day I'd just have to build something wacky. Then this fell in my lap like a golden gift from the Gods!
The carcass was covered in filth, cat urine, and who knows what else, and honestly, when I got it back to my shop not much changed in it for years. It sat in a corner collecting more dust, primarily because we were busy and also I had nothing suitable to run in her. That is, until I got a killer deal on a stock 1957 Panhead drivetrain (from the bike's 2nd owner. He had owned it since the 1960's). Sometime in the '90's he, for some baffling reason, took it out of the original Panhead chassis and stuffed in some late '90's custom Softail abortion. It was like it was meant to be; a perfect drivetrain in need of new residence.
I pulled the motor/trans/primary out of that wretched­ness, and gave it a proper home in the Rum Runner chassis. Pretty much kept all major cosmetics the same, just added a headlight I had hanging around, new cables, lines/hoses, wiring, grips, front tire, and some other odds and ends, and we rebuilt the rear brakes (new m/c, lines, and pads). Also made a seat mount, as it was just sitting on the frame rails. Other than that, we just had to repair the risers. My homie George Quirk surprised me with the wood shift knob he made me to match the bike's décor.
So, she rides as sketchy as she looks, but it's all love and fun. This trike is the ul­timate liquor run vehicle! I gotta thank Donny, Cole, and Junior for helping me out with this in-between all the customer work we've had here at Choppahead! She now lives out in the showroom, so if you're ever out East, come visit us at the shop.
—Big Truth
Story by Big Truth