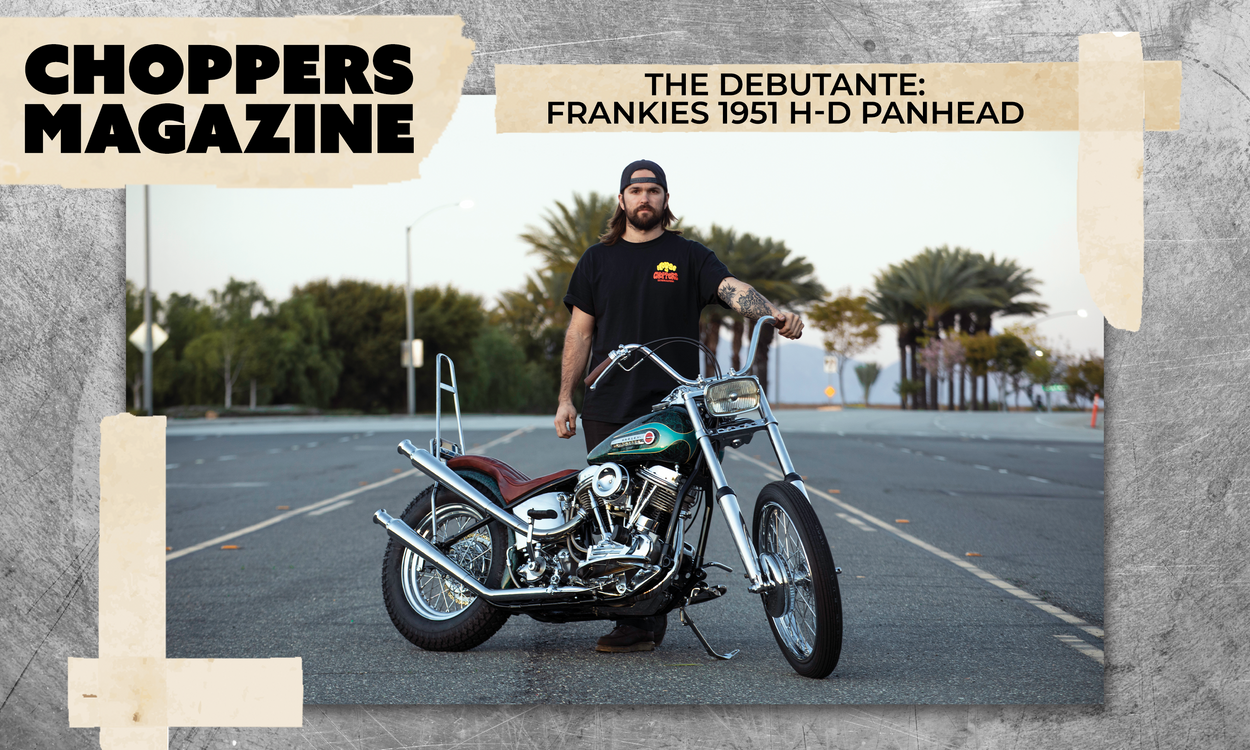 The Debutante – Frankie's 1951 Harley-Davidson Panhead
Building a chopper from scratch can take a lot of time, sweat, thought and aggravation. I'm Frankie from Sweatshop Industries and this is my 1951 Harley Pan chop. When I decided to build a truly one-of-a-kind chopper, I went to the best guy I know, Brandon Nine of House of Choppers. Brandon and I sat down, keeping our minds open, with the goal of putting together a clean chopper that would be a timeless work of art. I think we succeeded.
Obviously, anyone who builds their own bike thinks it's one of the best out there. I truly love how it came out and the way it rides. We started with a wishbone frame, a set of matching 1951 cases, a 4-speed Panhead transmission and inner and outer primary. The finished motor by Vince's is an 80 cubic inch stroker with an Andrews J cam and an S&S carb. The front end is a right-side drum brake Wide Glide with shaved triple clamps and legs on a 21-inch star hub up front and a 16-incher in the back. The handlebars are one-off and fit me perfectly.
The 3.5-gallon gas tank features a Biltwell whiskey throttle tube and cat's eye dash, while the upsweep pipes and cocktail shakers are by Paughco. The seat pan, sissybar and upholstery was done by House of Choppers and Dr. John's molded the frame. It runs a Lee-style foot clutch with floorboards for comfort. I found the headlight on an old motorhome and have owned the shifter ball for many years. I was just waiting for the right bike for it.
Special thanks go out to The Harpoon for handling the incredible paintjob. This guy is in the upper echelon of custom painters and a true artist. When it came down to the paint, I wanted something that wasn't played out. Harpoon had just acquired a special paint gun that he'd been searching for. It took him 12 years to find this special Veiling Gun to do this kind of paint job. He asked if I was down for it. Of course, I told him to let his clutch out and have at it. It really came out awesome.
I think the cosmetics and motor all complement each other well. I set out to have a nice show bike that I can ride all the time and put it to the test. It ticks all the boxes for what I asked for and I'm grateful for what Brandon did on this chopper. Special thanks to all my friends for helping me build the chopper of my dreams. I can't leave out my partner Jeff, who is always there for me and helps me with anything I need. But yes, he's still everybody's favorite asshole. Gotcha! LOL!
—Frankie
Photos by Zach Meister @zachsta