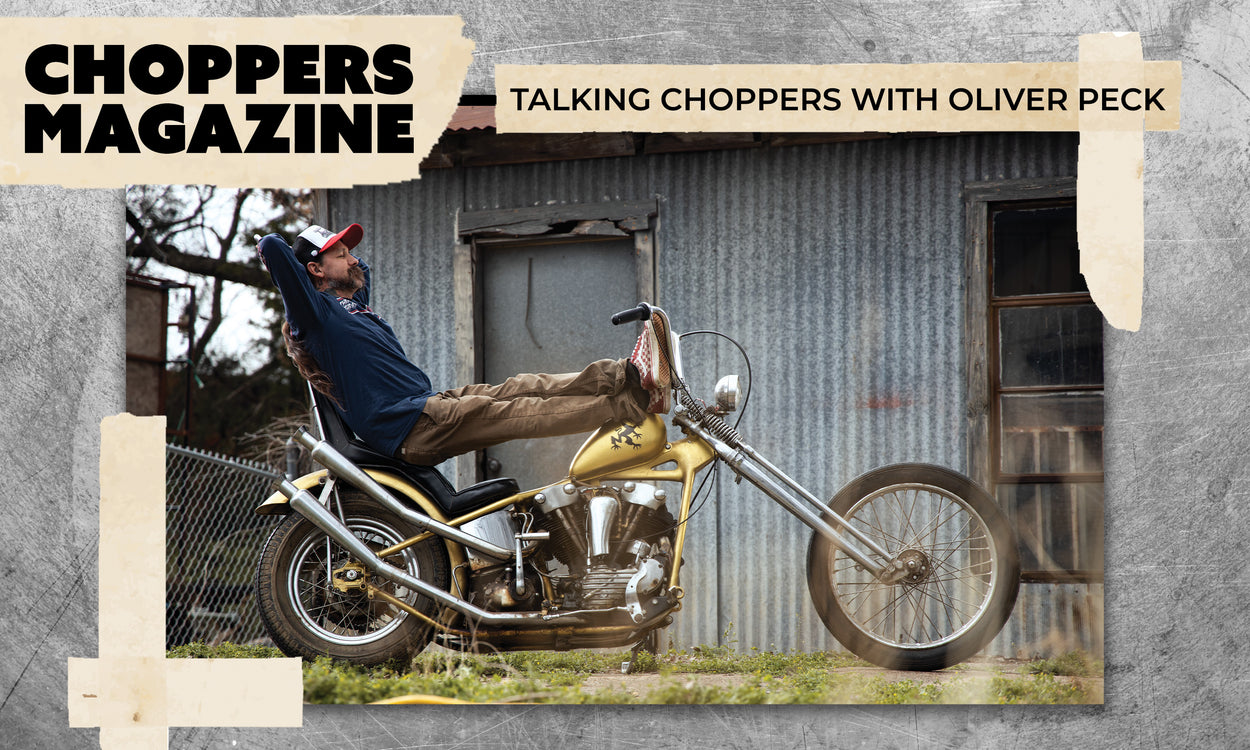 Talking Choppers with Oliver Peck
Choppers Magazine: Oliver my man, you have quite the motorcycle collection. How long have you been collecting bikes, and do you have a favorite?
Oliver Peck: I have had motorcycles pretty much my whole life. I rode dirt bikes as a kid. I got into Harleys about 15 years ago or so. I was an amateur hoarder back then, but quickly went into full-blown collector mode. Over the last decade, I have gone to every swap meet I could get to. Not just in Texas, but all over the county, on the prowl for old motorcycles and parts. It's hard to pick a favorite, but I'd have to say my favorite is probably the 1971 FLH that I have had for 10 plus years. I was born in 1971 so I have that connection to it. The FLH isn't 100% stock, but it was closer now than it was when I got it.
CM: Tell us about these three bikes that Bobby shot.
OP: The three bikes here are all pretty special. The brown bobber is a bike I put together out of parts I bought at swap meets over the course of many years. Most of the bike has OEM Harley parts on it. The frame is a 1950 wishbone, motor and trans are '77 Shovelhead. My neat bud Jeff Milburn did the frame repair, paint and a lot of other things. Motor and trans were rebuilt at Browns Cycle.
The Cheap Thrills bike is a '79 Superglide that has a bunch of custom shit done to it. It was painted by Randy at Chemical Candy Customs. The 1947 Gold Knucklehead is a survivor chopper built in the late '60s My buddy Dave from SpeedMetal Cycle found it up in Denver. He called and said I had to buy it, or it was gonna get sold to someone overseas.
So I did.
CM: What's up with Anchor Screen Printing and Cheap Thrills?
OP: I started Anchor Screen Printing in 1999 out of the need to get shirts printed for myself the way I wanted them, and it took off. I mostly print shirts for my tattoo shop and a handful of other customers including Browns Cycles, Dream Machines, Chemical Candy, and other tattoo shops. Cheap Thrills was originally just a deal where we started printing shirts for just our friends. My buddy Mike Deloach started a blog called Cheap Thrills and we thought it would be cool to make some shirts. A few years later, Mike, Randy and myself got together to go bigger with the brand.
CM: Tell us about Elm Street Tattoo, how long has it been open? Do you still find time to tattoo people yourself?
OP: My partner Dean Williams and I opened Elm Street Tattoo in 1996 on Elm St in Deep Ellum, Dallas, Texas. When I'm in town, you'll find me there tattooing every day of the week, and when I am outta town, I am tattooing wherever I end up. When I head to a swap meet, I book tattoos at night at a local shop or straight out of my RV.
CM: What part of Texas are you living in, and what do you like best about living there?
OP: I live in and love DALLAS, TEXAS!!! I grew up in Ft. Worth and started to come to Dallas as a teenager, hitting skateparks and punk rock shows. I have traveled the world and wouldn't wanna live anywhere else.
CM: Do you still laugh at Scott for the Chemical Randy debacle in Wrench Magazine?
OP: I don't even know who Scott is... seriously. His Name is RANDY!
Photos by Robert Biedinger @mr_fotography