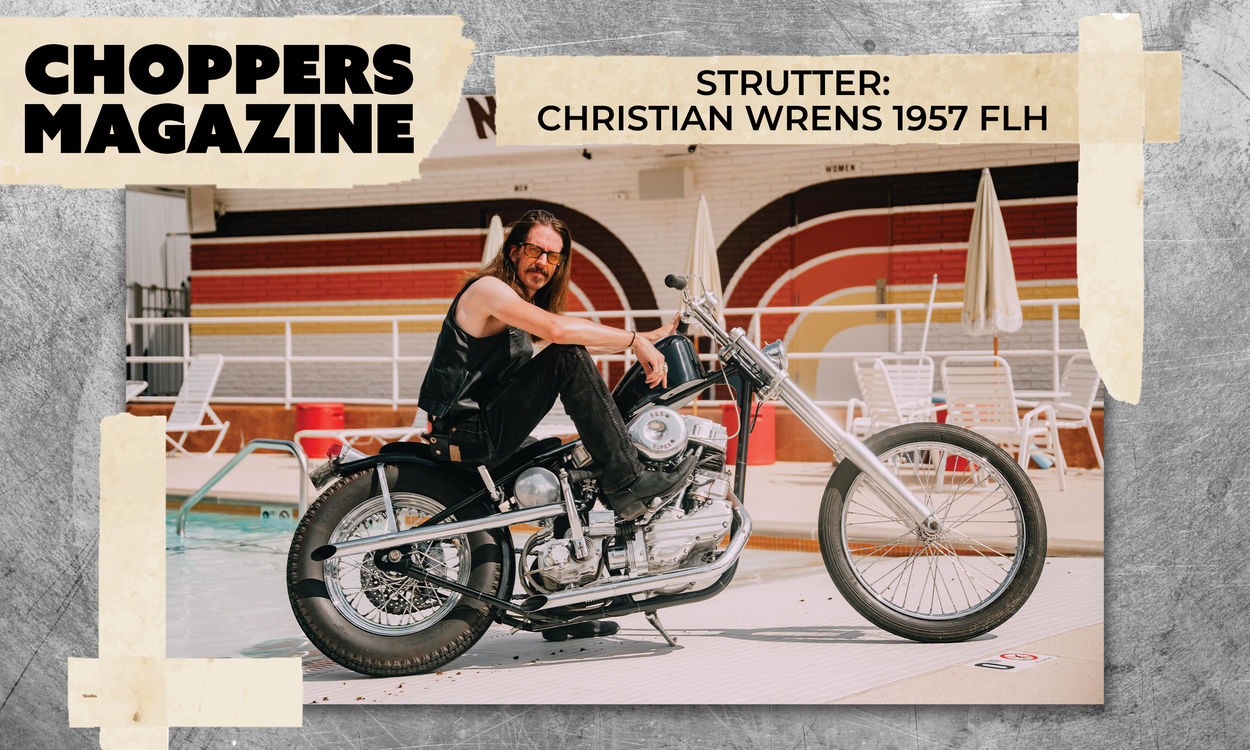 Strutter - Christian Wren's 1957 FLH
Everybody knows she's looking good! She has to be, 'cause this scoot is called Strutter. The worked-over 1957 FLH Panhead, is an homage to the bikes that came out of a lil' shop out of San Leandro, California. In proper chopper aesthetic, the bike sports nothing extraneous. It's set up for all go.
Owned by Christian Wren, Strutter's ultra-light single tube frame was designed and built by Reece Zylstra and Christian. Stuffed inside that frame is a full race mill built by Chris McGhee sporting 4.75-inch Truett and Osborne flywheels, milled cylinders, forged 11.5:1 pistons and full Leineweber valve train. The trick heads were heavily worked and flowed by Steg Von Heintz. All 4 plugs are fired by MSF units and a single magneto.
An S&S Super B carb on a 2-inch spacer takes care of fuel atomization. Putting the horsepower to the ground is a 2-inch belt drive and an Andrew's close ratio gear set linked together with a Barnett centrifugal lock up clutch. Stopping power comes from a single 4 piston sprocket brake out back.
All of the heavy welding and fab work, including the high mid-controls and pipes, was performed by Dave Herr out of Smithville, Indiana. The 6-inches over narrowed pan fork and narrowed Sportster tank help keep this night stalker in the shadows. A crushed velvet seat and jet black paint separate this bike from a common street walker to a high-class escort. This '57 is built to roam the streets.
Special thanks: J&F Auto Trim, Bobby Thompson, Mike Reed, Hole in the Sky, Year of the Dog.
—Liam Kennedy
Story and Photos by Liam Kennedy