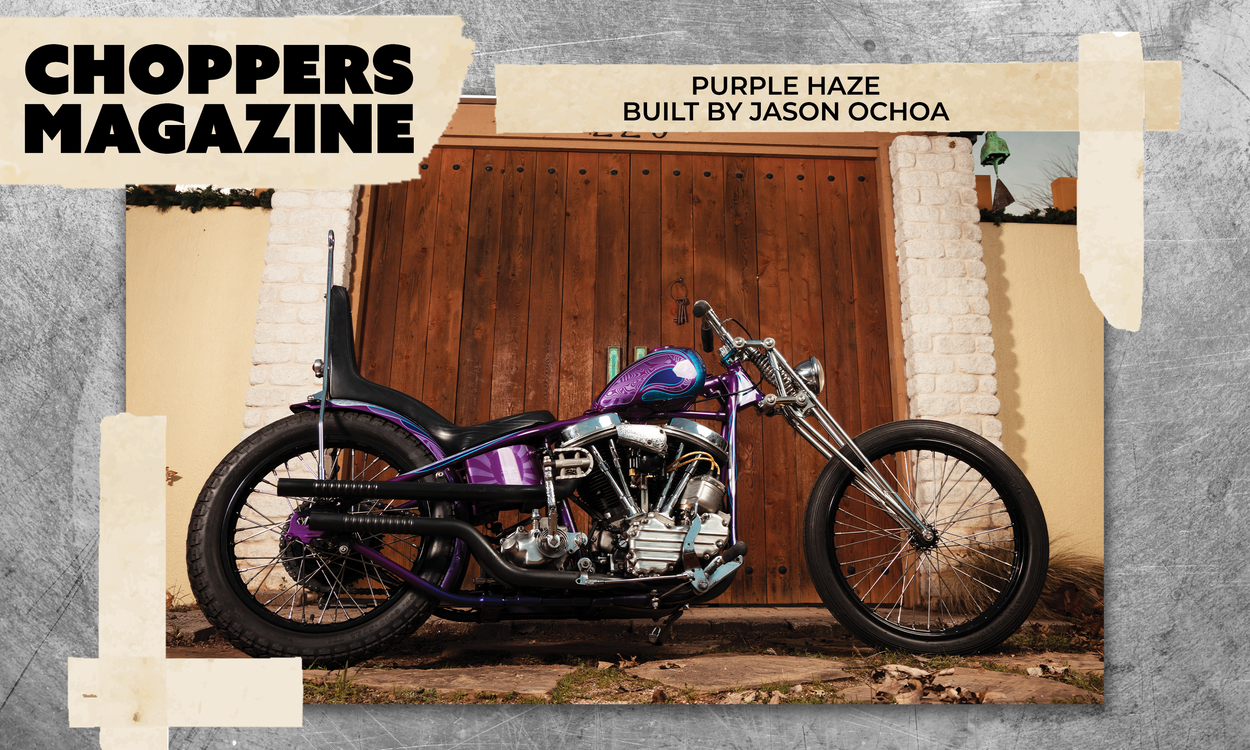 Purple Haze Built By Jason Ochoa
"I built this bike in honor of my father, who absolutely loved Jimi Hendrix, so the bike was named Purple Haze." – Jason Ochoa
If you're thinking "this guy looks familiar" you are right.  We featured Jason Ochoa's Knuckle "Satan's End" back in Issue 1. While chatting with him a few months ago, we got to talking about all the killer builds coming out Texas. I asked Jason to have all these guys send me pics of their bikes. One-by-one, the Texan choppers started filling my inbox.
This bike was started way back in 2014. Jason wanted to throw his name in the hat for the People's Champ competition and was fortunate enough to make the Top 25. He didn't end up making it passed that group, but was determined to finish it for the Born Free show. 
Jason started out with a 1955 Panhead motor paired with a 1947 Knucklehead transmission and a tweaked-out '57 straight leg frame. He had a fellow Texan buddy give the ol' straight leg a once over and get 'er back to proper specs. Rick Bray from RBK Kustom Speed built up a one-off super narrow girder front end to give Jason's bike the stance he had been envisioning since the build started.
In actuality, this bike was coming together slowly for about a year and the Born Free show was coming up quick. Jason's buddies pitched in and helped him finish it up and get it ready for paint and chrome. The purple and blue metalflake paint was laid down by Jason's good friend Gary Queen from Other Side Customs. Gary then added in some silver leafing and subtle pinstriping to finish it off.
Jason's chopper came out great, if you ask us. We remember this bike getting a lot of attention at Born Free and it was even invited to showcase in the VIP area, which made all the hard work worth it.
                  —Brobeck