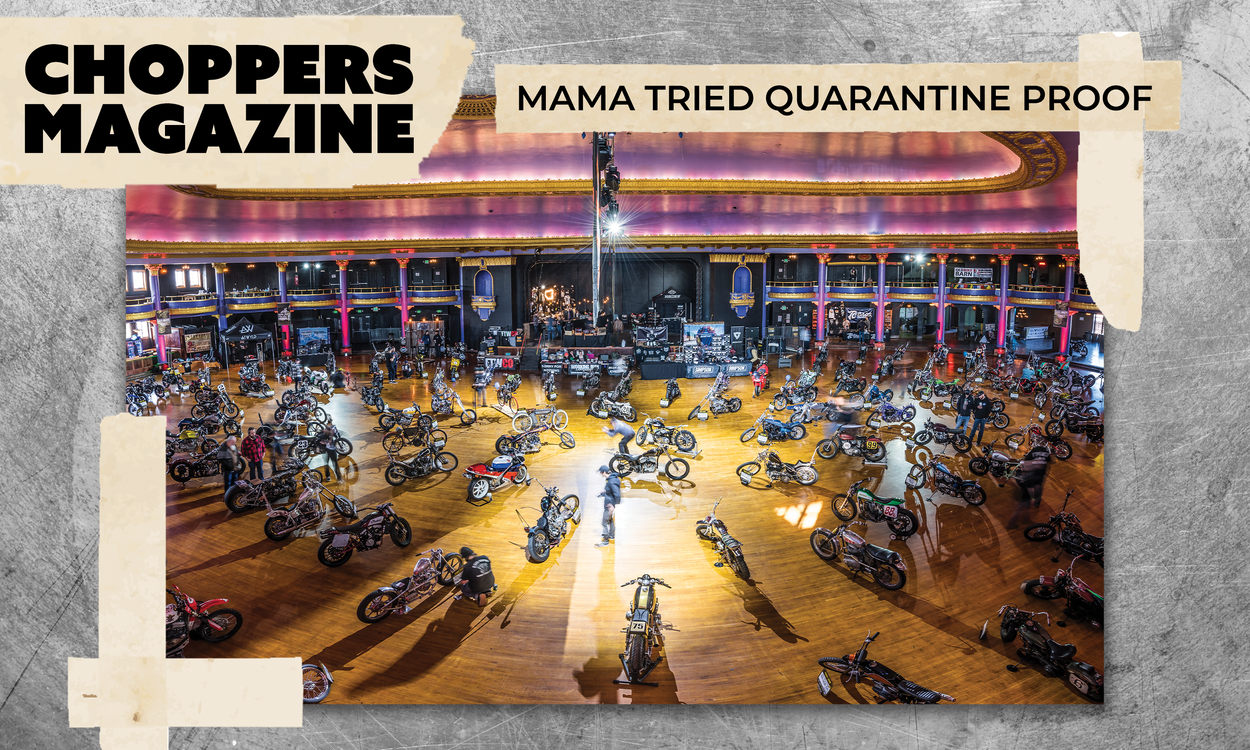 Mama Tried Quarantine Proof
Mama Tried started on a whim in 2014, after the demise of an outdoor event I had been doing for years called Rockerbox. Rockerbox was big on the FUN, it was a huge party with wild crowds and tons of bikes. But being a "ride in" event, there was no real "show" aspect to it. It was a good time, but I wanted to switch gears to more of a curated thing.
I was just starting to get into street bikes after years in the AHRMA and flat track/dirt scene. I really wanted to show off the craftsmanship of competition bikes. I was also seriously falling in love with choppers. Warren was coming at it from the other direction, being around choppers his whole life, he was groovin' on race bikes, dirt riding, and being at the track. It was a good match. That was when Warren and I decided to do an indoor invitational event and the Mama Tried Motorcycle Show was born.
The first space we found was an old warehouse being developed by the guy who built The Iron Horse Hotel (and right next door). He introduced us to his GC, who was super cool about us taking over his construction site for a weekend, and we had a location! The bikes started falling into place. It didn't hurt that the show was in February; it was the heart of winter in Milwaukee and Daytona was still a few weeks away. Everyone was jonesing for something bike-related to do. So we bought a ton of beer and whiskey, strung up some construction lights, rented a few porta potties, and opened the doors.
The first year was huge success, a bunch of rad bikes, stoked crowds, and the best vibes. The thing we had distantly hoped for was actually happening. The dirt/racer folks were having beers and getting stoked on choppers, and the chopper/cafe racer/street bike dudes were checking out the race bikes and loving the craftsmanship and the style. We had a blast and the cops didn't shut us down. It was the start of an annual thing.
Fast forward six years, and three different buildings. We now have Flat Out Friday indoor motorcycle race at the Fiserv Forum on Friday night. Saturday and Sunday the new home of Mama Tried Motorcycle Show is a 25,000 square foot turn-of-the-century ballroom turned spectacular music venue with seen floors of vendors, bikes and parties all weekend long.
But this year was different. It was Tuesday before the show and we have been moving signage, merch, displays and vendors into the Ballroom. The Builder Bikes and Racers are starting to roll in. We had Press Day at the Fiserv, starting at 4am, to prep the track and get a few laps in, and everyone is talking about this virus that is spreading around the world like wildfire.
Wednesday rolled around and our friends were texting us to confirm the Show and race was still on before they left from Boston or Birmingham or Brazil. The city asked us what our "hand sanitizer plan of action" was, so we started ordering glycerin by the pallet and making our own because literally nobody had hand sanitizer. Shit was starting to get weird. We saw the world was crashing down like garage doors, one city at a time. That night the NBA canceled their season, Schools followed suit. Then one-by-one, every major sporting event, concert, bar, coffee shop and business started closing, and the writing was on the wall. By the order of the City of Milwaukee, we sadly announced Thursday afternoon that we would postpone the weekend's events.
Most of the people who were driving, turned around. But a bunch of folks were already here, and either couldn't change flights or just decided to stay and party, since that was the plan anyway. So we gathered our team and started putting together Plan B. We decided to take it back to the streets, grass roots guerrilla-style. The weather was unusually cooperative for March, and some bars and restaurants were still open! So we started planning a bunch of parties. We had mini bike races in front of coffee shops, a Live DJ with circle track mini bikes that raced THROUGH a packed craft beer bar. There was a huge-ass mobile mini bike jump in front of a hotel and cafes and anywhere we thought we could set up for a quick couple of hours and show these folks some awesome spots around Milwaukee. Thursday, Friday, Saturday, and Sunday turned into a blur of bikes, jump tracks, beers and burnouts. We fuckin' partied!!!
By Sunday, the "quarantine curtain" had fully descended. The weekend felt incomplete even though it had been epic given the circumstances. A new kind of world was upon us. We would now have months at home to figure out how to reschedule the Mama Tried Moto Show and Flat Out Friday Race. But, for that last weekend, we had fun. Stay Tuned.
—Scott Johnson