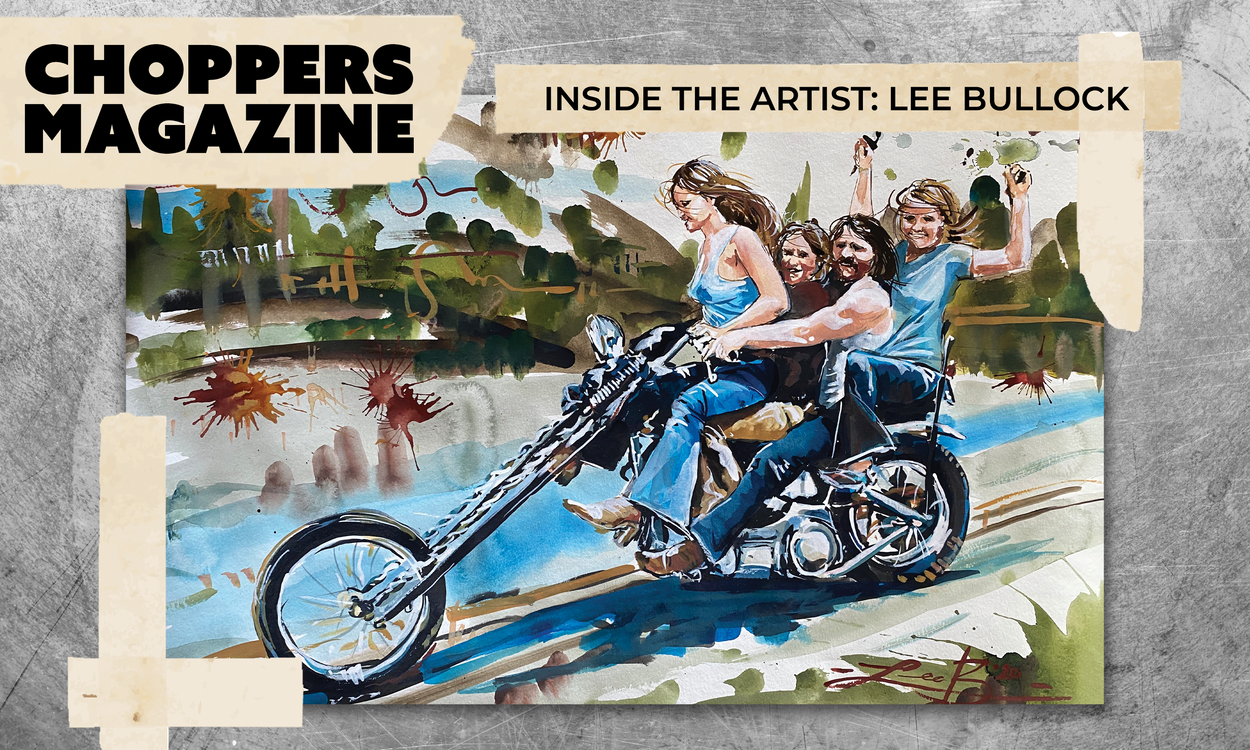 Inside the Artist - Lee Bullock
Texas has as a whole has a hell of a lot to offer. They have had ZZ Top, Roky Erickson, Stevie Ray Vaughan, and some of the best damn BBQ you'll ever taste. Texas also has some mighty fine artists such as Lee Bullock. His work is a wash of color and has a style second to none. Lee is a man of taste and a true talent.
Lee has recently been concentrating on larger paintings and concentrating on everything from original Knucklehead and Panheads, to custom choppers in all their glory. Lee has also been known to paint such legends as Clint Eastwood, Dolly Parton and Willie Nelson. Choppers Magazine just had to do an interview on this great talent in its first-ever all-Texas issue.
Choppers magazine – Howdy Lee. Were you a born and raised Texas man, and where abouts have you lived in the Lone Star State?
Lee Bullock - I was born just outside of Austin, Texas, and have lived kind of all over central Texas.
CM - How long have you been creating art? You certainly mix it up from the bike art as well as all the other fine work such as Dolly, Willie and Clint.
LB - I have been creating all my life really. And after 14 years of tattooing, I became a full-time painter roughly seven years ago. During this pandemic, I actually shifted again and am doing real estate, allowing me to focus more on larger bike and portrait paintings. Fewer commissions. 
CM - Can you tell me how long you have been creating art within the chopper community? How have you developed your distinctive style? Also, give us a little on your background and how you became a name on the Art/Chopper scene.
LB - It's hard to say how I became a name. Probably just because I traveled and partied a lot, and people just became familiar with me. I have been painting in this style and subject for roughly seven or eight years, although it's always evolving. I won't stop painting motorcycle and chopper art.
CM - Are there any other artists or individuals who have inspired you or helped you along the way?
LB - Oh man, there are so many. I don't like to list them, only because I'll forget someone's name and I don't want to single anyone out. But there are so many amazing artists and creators that I follow on social media. All styles and subject matter influences me. But honestly, I try not to follow people whose styles are too close to mine. I feel that's a dangerous way to subconsciously mimic your inspirations.
CM - What do you ride bike wise? Do you have a preference for look or feel? Chopper or just a great old looking bike? Certainly, your work involves both styles which I love.
LB - I actually sold them all! I have had many choppers, bobbers, and stock older bikes over the years. My favorites have been all my Panheads. 
CM - How is the Texas real estate market? Should Choppers Mag head south? After all, Shiner Bock is our beer of choice.
LB - Man, come to Texas. It's always been an explosive market, but it's really dialing up now. And there's a window that people can still afford. I'm a Modelo man myself.
CM - Is there a dream bike, something you are building or looking to one day acquire and ride around Texas? Do you still have that funky old '42?
LB - I am currently putting together another stock 1949. That's the 'one that got away'. I sold a pieced together '49 years back to build that '42. Life got crazy and I was forced to sell the Knuckle. But now with my new real estate career, I am fortunate enough to build another 1949, and much better than the one I had. So, keep an eye out for me on the roads again soon.  
Many thanks, Lee. We sure are looking forward to the '49. Anyone who is not familiar with Lee's work should give him a follow and see what a true Texas artist is all about.
—Mike Mastrangelo
—Lee Bullock