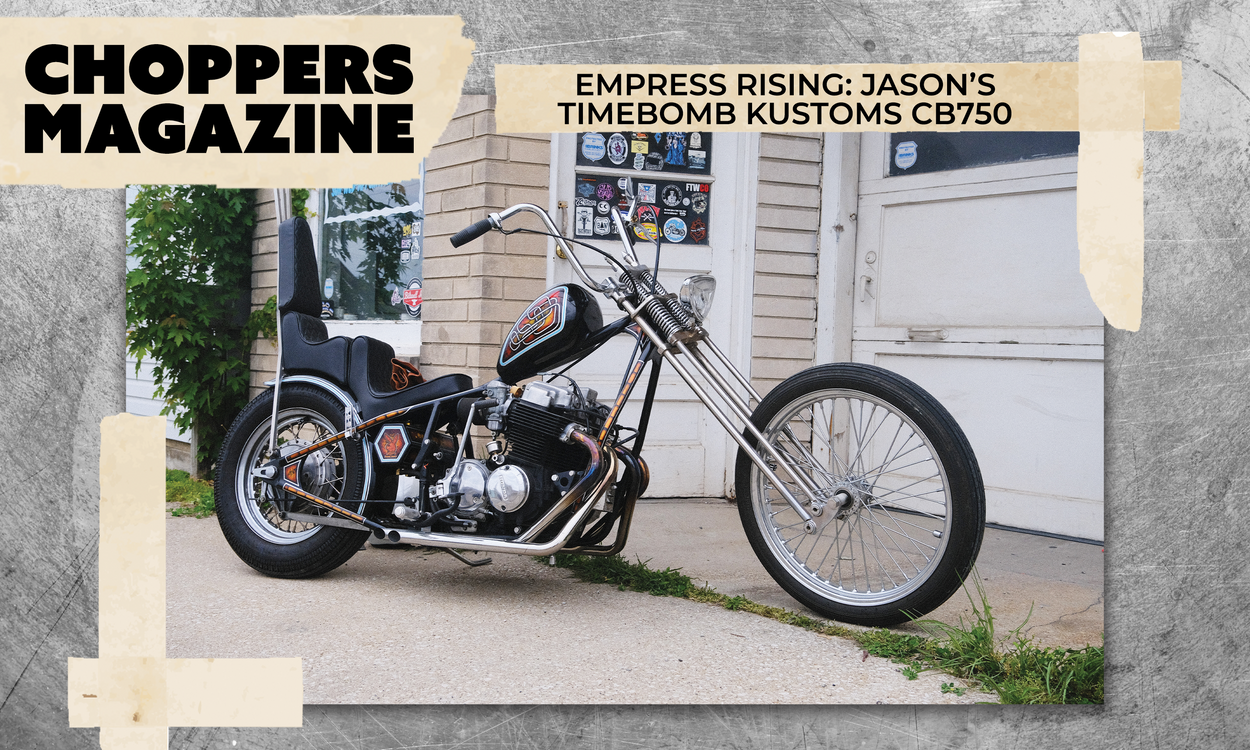 Empress Rising – Jason's Timebomb Kustoms CB750
There is a lot I could say about this bike build and a lot of amazing people were involved in bringing her to life. It was an odyssey that spanned over three years. When all this started, I knew I wanted a long, raked CB750. I picked up a frame and new rear wheel from Rawhide Cycles. The springer is an old S&W I snagged from a guy on Instagram.
The original plan for this thing was to make it a straight show bike. I molded the entire frame, tank and fender. After the body work was done, I coated the entire thing in my own mix of Roth Metal Flake called "Wizards Dust" and went to work with some tape: panels and endless lines. Then came the paint including fades and cobwebbing. That's all my jam, so I worked it all into the tank, fender and frame.
I'm kind of known for my image transfer tanks featuring fine naked ladies, so Miss May 1977 graces the top of my Wassell tank. I added a Playboy bunny gas cap from Handcraft Choppers in Germany. While I was working on paint, Porter Built in Indy was busy putting new gaskets in my motor along with a fresh coat of wrinkle black paint.
Right after I got all the molding and paint done, my plans changed thanks to a pandemic. Shows were cancelled for the foreseeable future, but I still wanted to do some things that I had planned when the build was destined to be a show bike. I sent my Drag Specialties scorpion seat to my good friend, Shawn Krist, of Double K Originals. He recovered it with some sweet diamonds and made a back rest to match. The end result is a three-piece king and queen that stands out and complements the whole build.
The sissybar is something that came later. When the fender was originally molded, it had a different sissybar. Due to a fab error that didn't show up until after paint, the old fender had to be cut out and a new one made to bolt in. I took the bike back up to Porter Built and they went to work getting mounts worked out and the new fender in place, all without destroying my paint work. While it was there, I had a new square stock stainless sissybar made. When asked how tall I wanted it, all I said was, "really tall" and that's what I got. In the end, I'm glad it is super tall because I got a bike that looks good and I'm not afraid to ride hard.
At the end of the day, Empress Rising was complete. I've had a great time jamming around town and hope to get her out to some shows in the future.
—Jason Mattox, Timebomb Kustoms
Photos by Yesu Elhu @yesu.elhu