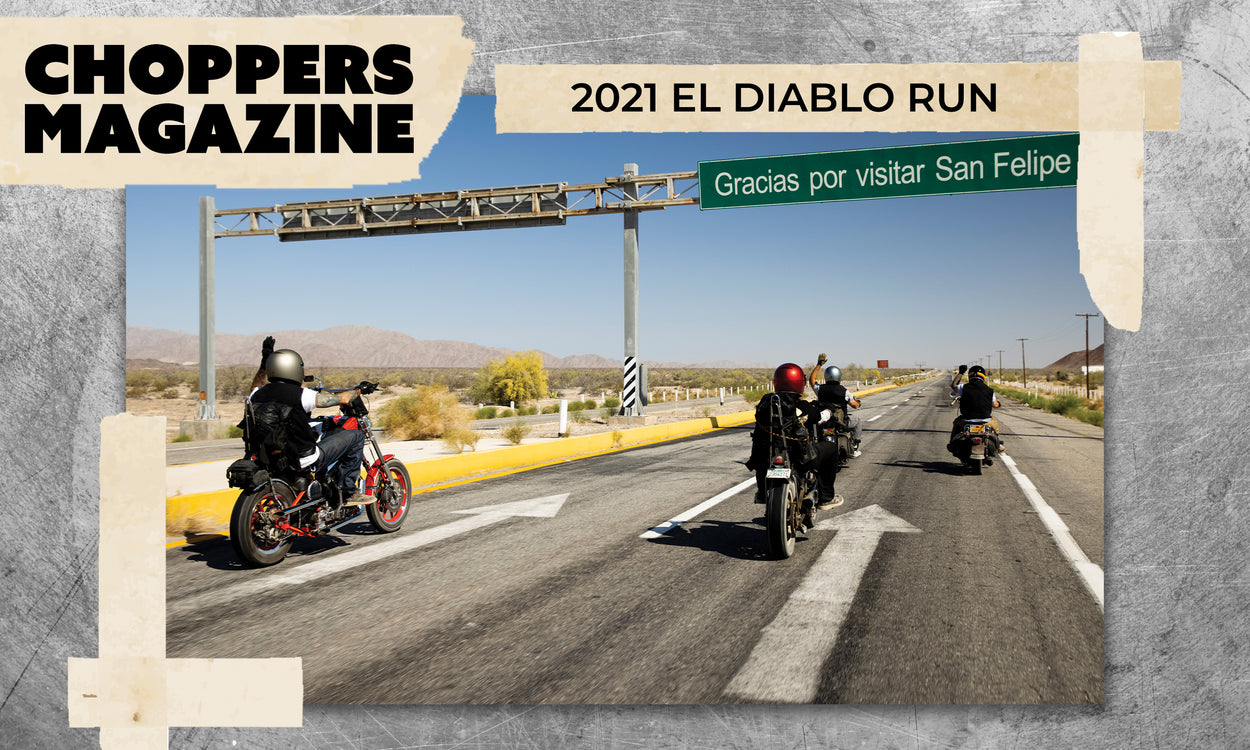 The desert heat can play tricks on a person's mental stability. It must have been triple-digits midday on the 395 and no matter how much water you drank, it just never quite took the edge off.
Generally speaking, it's a rule of thumb to not use a long ride event as a shakedown run on a new build. Who am I kidding… I needed a good excuse to set a deadline to finish my bike.
Two days before departure for San Felipe I was chasing gremlins in my carb, swapping jets and dialing in the air fuel screw to get it running right. I think I was able to put down maybe 100-miles on the backroads around Carson City before we left. Fuck it. One thing I have always loved about road trips is the side of the road fixes and the memories created with friends. Trouble-shooting old bikes to make it that next 100-miles, road side fixes that become permanent. It's all part of the adventure and El Diablo Run 2021 would be no different.
The crew from Biltwell has been hosting the EDR on and off for the last 15 years. The early years were much more loose and those wild stories that circulate through the circles of chopper enthusiasts have helped it continue to stay relevant and maintain as a true destination event for folks from all over the Americas, North and South. This year we had a group of 12-15 of us heading South from Northern Nevada. We linked up with Napa Dave and a few of his friends from the surrounding areas of the Eastern Sierras. The trip to the border town of Calexico was pretty uneventful.
The desert heat can play tricks on a person's mental stability. It must have been tripledigits midday on the 395 and no matter how much water you drank, it just never quite took the edge off. Once we hit Calexico, we all linked-up at the hotel and partied outside in the parking lot all night. We only had one of our guys kicked out of the adjoining restaurant bar so to me, that was a win. 6 am came pretty early that next morning, but the excitement of a trip across the border had everyone kicking over their bikes at 7 am sharp, ready to cross into Mexico.
Until the border crossing, we really had no idea how many people would be in San Felipe. But once we made it through we started seeing all the other EDR folks stopped at the gas stations and gathering their groups up, ready to push south on the 5. This highway can be pretty unforgiving. It's a very desolate stretch of road and the longest stretch between gas stations was like 100-miles or something like that. The first gas station in San Felipe was an absolute shit show. It was at this point that we started to grasp the amount of people that would be at the event.
That's about 30-miles farther than my peanut tank and Super E would allow. My travel pack consisted of more tools and spare parts than it did actual clothes. Of course I also had a spare gallon of gas attached to my sissy bar, as did most. So we made the whole stretch with no issues and lots of smiles.
The first gas station in San Felipe was an absolute shit show. It was at this point that we started to grasp the amount of people that would be at the event. I saw a lot of familiar faces and shook hands with a lot of new folks as well. Lots of clubs at this event. Lots of clubs from all over Mexico. Seems like the Mayans TV show is a big hit down there… Being who I am, I made it a point to introduce myself to most of them. What was notable to me was that there wasn't the usual tense handshake stare-down that we get from most club members in the states. These guys were in it for the right reasons, it seemed. I don't claim to know the full spectrum of politics down there so I don't want to jump to any conclusions. But it was refreshing to say the least.
Anyways, once we landed at our hotel in San Felipe, the majority of our group donned their swim trunks and hit the pool and the bar. I was curious about what the town looked like now. So, I jumped on my bike again and hit the streets. Stray dogs and the smell of dead fish. I don't have any other explanation of first impressions. It's cool though, I like dogs and fish. So, I hit up a taco spot. Fuckin' mind-blowing how good it was. I ate some salsa that made the crown of my head sweat, that's the good shit. I made my way over to Kiki's and parked my shovelhead against a curb. Immediately, I spotted him. You know the type, the one who is three sheets to the wind, trying to fight everyone and has something to prove.
I took a deep breath and leaned up against my bike waiting for him to pass on by and just leave my shit alone… That didn't happen. No sooner than we made eye contact did he start towards me and my bike. He made it within about 10 feet of me and I'm pretty sure we both knew what was about to happen. I took off my Ray Bans and put them in my pocket, he squared up and then… The fuckin' federales rolled in deep and swooped his dumbass up. Probably a good thing for us both. I wanted to at least see the beach before I saw the inside of a San Felipe jail. The crazy thing to me was that it was a local club member that was pointing him out to the cops. Go figure. I guess that's why I got such a different political vibe down there. I'm sure it's not all like that, but hey… it happened.
From then on it was all smooth. We had a blast in and around Kiki's bar. All the homies were either dipping in the hotel pools, drinking tequila or working on their bikes. Drinks were flowing and the weekend was an absolute blast. The Biltwell team was set up in force. They have that event dialed in so hard.
There he was, on his back with a cloud of dust around him and the rider's bike just to his left.
I've been to many events where after one hot lap around the party, you've seen all there is to see and that's that. Not the EDR. So much to do and see there. I kept busy the entire weekend looking at bikes, taking photos and riding the backroads.
The highlight of the weekend for everyone was the Circle of Death. This isn't just a dirt lot with dead dogs and broken glass. There is some history here and the race entrants take it very seriously. Race teams had been formed; bikes were built specifically for the race. The practice sessions leading up to the race really gave you an idea of who was who, and what to expect. There was one race team in particular that caught my eye. It was a club from Mexico that had wrangled a small skinny guy to race this little Japanese bike. The bike wasn't anything special. But these guys were all business. They practiced each corner and talked about it after each lap. They had the entire track dialed in a matter of a couple hours. If I was betting, my money would have been on them.
Race day was here, and the crowd was pumped. That big-ass dirt lot became really small, real fast. The bikes were hauling ass through the dirt and rocks with spectators literally standing shoulder to shoulder bordering the track. I decided to jump into the middle of the track area, I had a feeling that I was about to get some action shots. Boy was I right. As the races went one by one, the quest for a trophy started to raise the level excitement. It was an all-out battle during the race with my Mexico club team. Their rider was giving it everything he had. But it wasn't long before he lost it in a corner and went barreling into the crowd. One unlucky spectator took the brunt of the crash head on and went flying through the air. What I noticed next was what made my entire weekend. That same fuckin' dude, you know, tough guy. There he was, on his back with a cloud of dust around him and the riders bike just to his left. He didn't get hit square like the other guy. But, It seemed that Karma had taken the opportunity to come knocking sooner than expected.
Motorcycles win.
Huge thanks to Bill, Otto and the rest of the crew from Biltwell for putting together another year of the world famous El Diablo Run. If you haven't made it down yet, you have two years to get your shit together before the next one. There is no excuse not to make it at least once. You should have seen some of the bikes people rode from all over and made it there. I promise that even if you don't make it all the way there and back, you'll have some great memories for the rest of your life. Mark your calendars and make the trip. You will not be disappointed.
Story by Sheehan