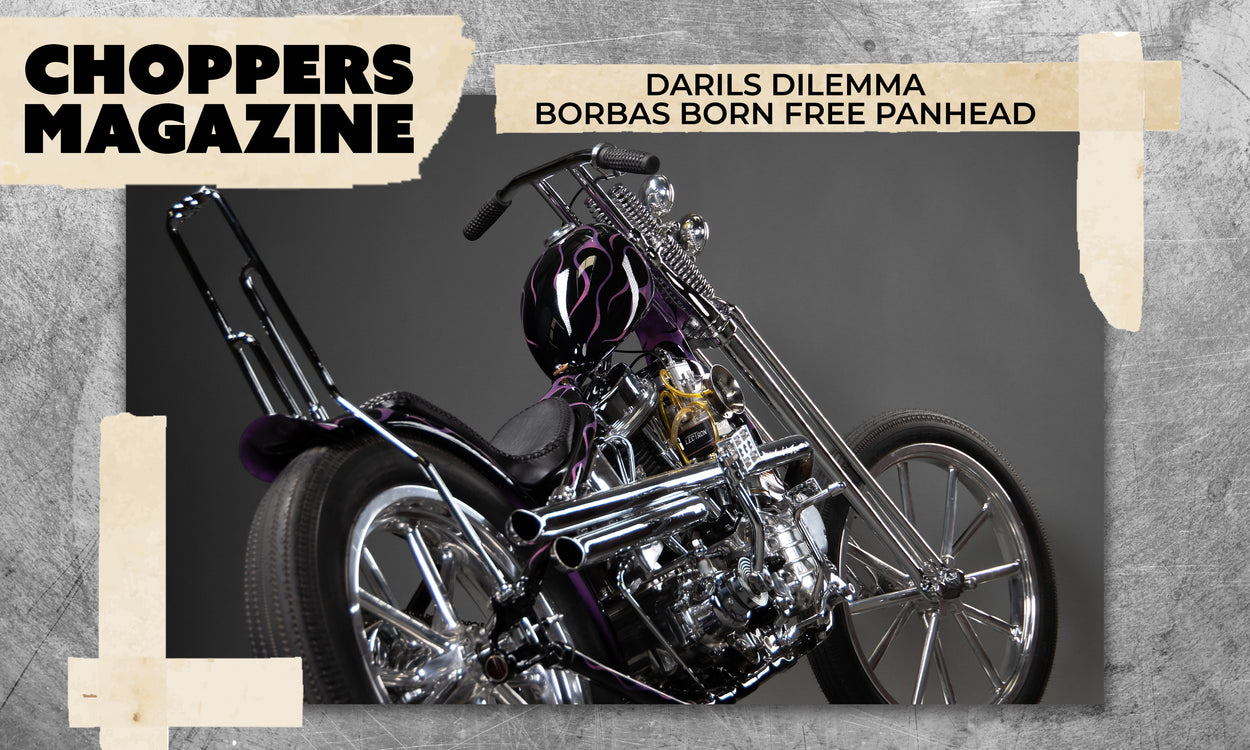 Daril's Dilemma – Borba's Born Free Panhead
As we all know, time stands still for no one. I was in the middle of moving my family from Hanford, California, to Texas when Mike and Grant asked me to build a bike for the biggest chopper show on the planet. How could I turn down such an amazing opportunity?
Timing was not on my side, but I made a commitment and pushed forward. I was part of Born Free 8 after winning the People's Champ competition, so getting the chance to be an invited builder was something I had wanted to do for a long time.
I had an idea of what I wanted to build, but I knew it was going be a huge challenge since I was in the middle of moving to Texas and not having readily available connections that I had in California. A few days had passed since the initial call and my good friend Dalton contacted me and informed me of a running Panhead that was for sale.
I went to look the bike over, made the deal and by the next day I tore the entire bike down. I kept the motor, transmission and frame and sold off all the other parts to recoup some of my money spent on the purchase. Reality set in as I sat there in my in-laws' garage because I had already sold my house and a huge majority of my tools to make the move.
I made a plan and hit the ground running without looking back. I took everything over to my buddy Jake's house and we got rolling. We completely went through the frame and cut out the junk and replaced it with new material. A friend had an OEM springer that was in bad shape, so a deal was made. I immediately took it back to my garage and cut the thing in half, narrowing it about two and a half inches.
I was well on my way to making the final move to Texas and had my roller completed and knew the final stages of fabrication would come together. The next thing on the list was to narrow a gas tank and relocate the filler, made a set of one-off exhaust pipes using a Biltwell kit and then I moved on to making some custom narrow handlebars to compliment the bike. Of course, there was a ton more work to be completed, but I pushed through and finally completed all the fab work.
I knew I wanted some crazy paint and decided to call Scott from Chemical Candy Customs to go over some ideas. I had some wild colors in my head, which consisted of pinks and purples, and he was stoked on getting some designs together. That was a done deal, but I still needed to do all the body work on the frame and tins. With a small budget, I decided to go in headfirst and take on the project.
Holy shit, that was a nightmare! After 80 hours of adding bondo, shaping and sanding, I was happy with the result. It was finally ready for Scott to do his magic and, as you can see, he absolutely killed it. I was completely blown away and I couldn't have been happier with the end result.
I want to thank my beautiful wife for all her love and support through the years and her ongoing belief in what I have accomplished. A huge thanks to Scott for helping me achieve my vision on the paint and all my friends who have lent a hand or had some part in this build.
—Daril @dirty__misfit__