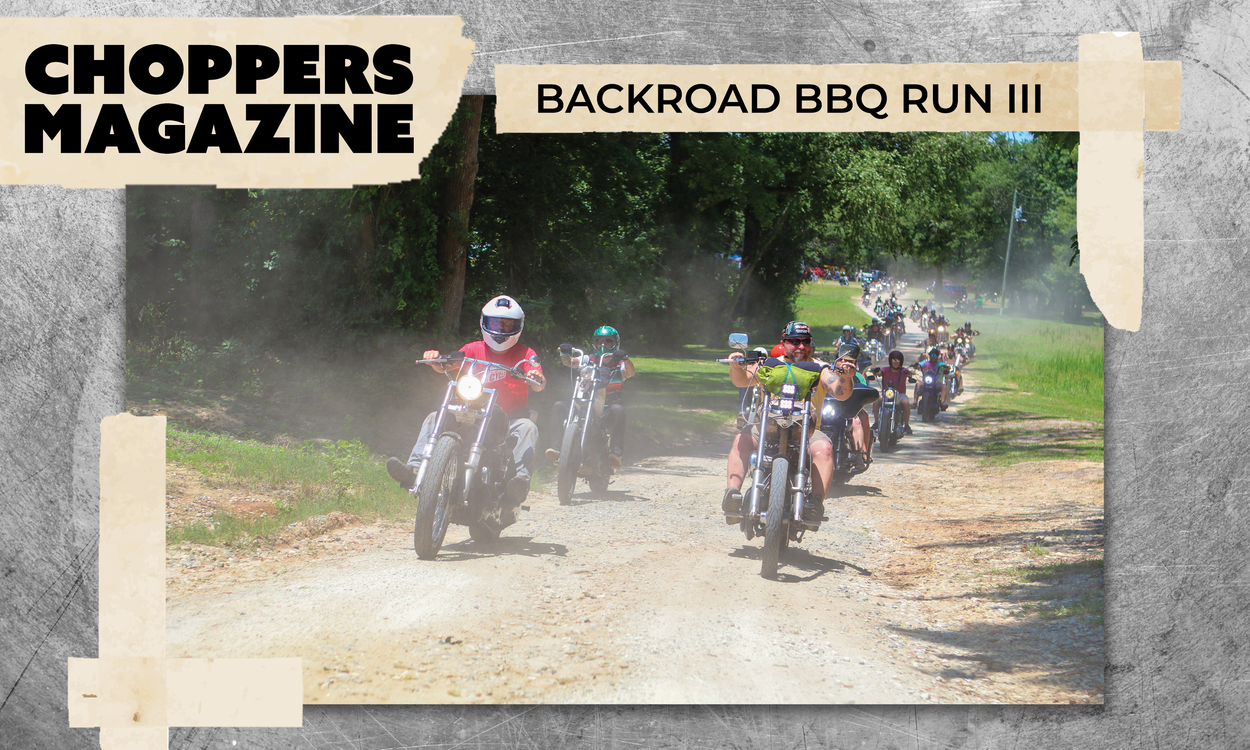 During a normal summer, there is nothing that would convince me to ride to the coast of North Carolina for a campout. Between the unbearably high humidity and the swarms of bloodthirsty mosquitoes, it can be downright miserable just stepping outside to get the mail. Of course after being quarantined for a few months, the idea of riding anywhere sounded pretty good, so that's how I found myself riding down the highway on my 'ol panhead beside Greg DeHoot on his shovelhead chopper (see issue 3).
All things considered, the ride down to Trenton for the third annual Backroad BBQ Run started out really well. We got an early start, so the temperature was nice and cool, the skies were clear and there was hardly any traffic. About an hour into the ride, my bike realized it was 2020 and remembered that things were supposed to suck, so while I was running 60 miles an hour down the road, the backend started sliding around like a snake on hot sand. I managed to get her stopped in the middle of the highway only to discover a completely flat rear tire. Thanks 2020. 
A few hours and a new tube later (big thanks to Shelton's Harley-Davidson) I rolled into the Trent River Campground. Now this isn't your average KOA campground filled with RV's and folks riding bicycles, but a massive 30-plus acre tract of land that had a mix of woods and fields, providing plenty of shaded spots for camping and wide open areas for bike games. Best off all, we had it all to ourselves and the remote location meant there weren't any visits from Johnny Law when things started getting wild. Located on the banks of the Trent River, there was the option to dive into the murky waters for some relief from the afore-mentioned heat, but I grew up in eastern North Carolina and I know that a little sweat is better than stepping on a snapping turtle or finding out a water moccasin is sunning on that log you just sat on.
Those suffering from more extreme cases of cabin fever started showing up Thursday, but I rolled in on Friday along with most everyone else and staked out a tent spot alongside the river. I was hoping for a little bit of cool air off the water, but again it was 2020, so nature decided not to cooperate one bit. Luckily, Pabst Blue Ribbon knew what we were up against, so for the second year in a row they sponsored the event by donating hundreds of free beers. All weekend long Luke and Ronni (the hosts of the event) made sure that there was plenty of cold beer stocked in a massive 80 gallon Yeti cooler at the main tent. It took a group effort, but by the end of the weekend, over 900 cans of beer were emptied, and no one left thirsty.
Saturday was the "main event" starting off with hot coffee and breakfast served at the campground as people tried to shake off the effects of the first night of partying. Around noon, everyone was coherent enough to go on a group ride through the country and we mounted up for a run to Big Game Brewing. Over 100 motorcycles headed out of the campground, rolling past lush fields of soybeans and corn as we made our way to the brewery. There really is nothing like riding through farm country in the summer, the air is just full of life. Sometimes that means the fragrant smells of ripening tobacco and sometimes that means getting hit in the face with a grasshopper at 55 miles per hour. 
After grabbing a few fancy beers at Big Game, the group came back to the campground for one of the biggest raffles I've ever attended. This year the sponsors went all out donating everything from helmets and artwork, to custom handlebars and even a complete springer frontend. All the winners looked pretty stoked, but I think the winner of that frontend didn't stop smiling for a week.
Once the raffle died down, the BBQ was ready to be served and we all lined up to gets plates of barbecued pork, chicken and all the fixings. There wasn't much time to stuff our faces before the bike games kicked off. They had all the old favorites like the slow race and the kickstart race, but the best was the waitress run. This was a two-up game where the rider had to go through a slalom course while the passenger held a tray of drinks over their head. This not only resulted in soaked riders as their passengers dumped the trays on them (sometimes purposely), but all sorts of additional mayhem with dropped bikes and passengers being dumped off the back. Clearly, this game is best played sober.
I knew things were going to get wild Saturday night as soon as I saw a four-wheeler ride past with over half a dozen naked people hanging off it. With plenty of free beer left to drink, everyone was going full throttle as the sun went down. At one point a row of headlights turned on to light the field so that people could do some "grass tubing." This is like tubing behind a boat, except when you fly off the tube at high speeds the dirt is not quite a forgiving as water.
Even with all the debauchery on Saturday night, people rolled out of their sleeping bags on Sunday morning and packed up like they had just spent a relaxing weekend reading a good book in their recliner back home. Goodbyes were said and people rolled out, energized for a couple more months of quarantine. The one thing events like this show is how tightknit the chopper community has become. Even with everyone having a wild time, there were no fights, destroyed property or any other kind of BS.  Everyone really just wanted to come hang out with friends, have a good time and ride motorcycles. That's what it's really all about.
                  —Panhead Jim