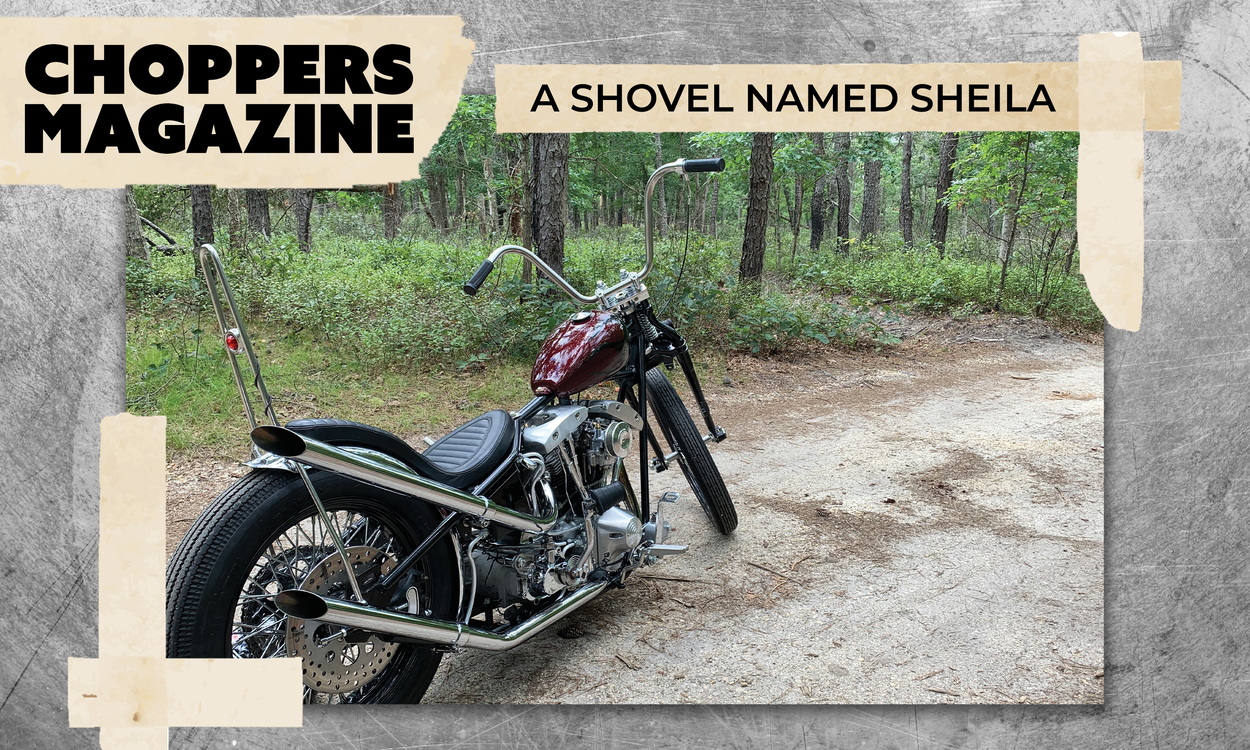 I have been building custom bikes starting with BMX bikes as a kid, then getting dirt bikes and quads and changing parts out, then moved on to motorcycles. This was my first full custom big twin. I always loved the Shovelhead motor. The look, the style, the curves, everything just screams vintage Harley. I have had a few other Harleys in the past but I wanted this build to be different. I changed every part of this machine. The only thing that was original from when I bought it was the frame, motor, and oil bag. I found her in Long Island, New York on Facebook market. I was most interested in this bike because it was already on a rigid frame.
I went up to see this scooter a few days before 4th of July. The guy said he had the bike since the 1980's and he was the second owner and did the rigid swap. I took her for a ride and could hear that everything was loose, I could see oil coming out of every gasket on the motor. It barely stopped and I thought, 'This is crazy. I have a 4-month-old baby and I'm buying a 38-year-old basket case.' But crazy is what I do best and I brought her home to New Jersey.
I always name my bikes, just something I like to do. It makes the relationship better I guess, or maybe I just like being able to yell their name out when shit goes wrong, or praise them when they act right. Anyway, I named this bike 'Sheila.'
I sold off almost all the original parts on eBay, Bought the Mid-USA two-inches-under Springer and 21/18 wheels first. I ordered 10-inch pre-unit style stainless bars from Arie Vee. Now I had a roller. I knew I wanted to have the motor rebuilt, so I brought it to my Harley Guru, Woody. The top end was already bored twice and the bottom end needed some love so I got new 80-inch jugs and pistons, had the bottom end rebuilt and installed a new S&S oil pump plus new James Gaskets all around. I also polished the rocker boxes and ignition cone.
I hand-made as much as I could out of 304L stainless round bar, bent and then polished. The sissy bar, mid-control fingers, and jockey shifter were bent out of ½-inch bar. The headlight fingers and fender mount were 3/8-inch bar. I cleaned and polished every bolt that I could reuse or bought new stainless hardware. I also bought a bunch of dope parts from Prism Supply such as the foot clutch, Super throttle, weld-on taillight, brake actuator, Anderson pegs, and petcock.
The leather seat was custom made by B&C Cycles, skinnier rear section up the fender with a relief in the pan for the fender rib. It runs a S&S Super E carb with a Boyle Custom Moto air cleaner from a few years ago. I have had that air cleaner on three different Harleys now and I can't let it go.
The tires are my favorite classic combo, Avon Speedmaster up front and a Shinko 240 on the rear. Other details include Paughco Squish pipe headers with 30-inch slash-cut pipes welded on, a new model Softail rear brake caliper and a RevTech ratchet top tranny.
My buddy from high school, Cyclepathic Designs, hooked up the tank art. We went with a maroon that was from a Hyundai car that caught my eye one day at work. I never really liked flames on tanks but wanted this one to have the bad chopper look and we went with a subtle black flame with silver fade.
I have never owned a Jockey shift bike before but always thought they look so badass with nothing on the bars. There were nights I woke up from nightmares of grabbing for the clutch and front brake levers that weren't there and slamming into some asshole who was here on summer vacation. But once I finally got to ride Sheila, and stalled once or twice, it was awesome and I highly recommend trying it.
I started my company Duffy Metal Works a few years ago as doing side welding jobs in my garage shop at home. It grew into me making custom parts for myself that I see other guys making, and just making parts that I don't want to spend the money on. I've been welding for over 10 years now and the business has turned into custom bike building.
I actually sold Sheila an hour after these pictures were taken. She went back to New York to Solid Gold Tattoo Shop in Long Beach. I had the thought of selling the bike after the first initial ride ended after only a few minutes and shifting into third gear exploded the ratchet top trans. I found a RevTech ratchet top 4-speed and threw her in. Then I made a IG post and took it down after 20 minutes but got a DM. A dude named Rob had been watching the build through my posts and was hooked. He made me an offer I couldn't refuse.
I then knew I had to get some sweet pictures taken ASAP, so I called a good friend, Elizabeth Kaminski. She met us on the local late night illegal drag strip known as Dover Road. It was a hot humid morning but she truly captured some amazing pictures that I am glad I will have forever.
Rob showed up to buy Sheila and the motor was still warm. I told him I just rode back from the photo shoot and was sorry she was hot. Went to start the bike and, 30 kicks later, I was about to kick her over on her side. I told him, "I know this is cliché, but this has never happened before!" New plugs and some carb cleaner down the throat and she came alive. I guess she might not have wanted to go just yet.
It is amazing how much we can use social media to our advantage. I bought, showcased my build progress, grew a following, and sold this build all through social media. The model in these pictures is my lovely wife, Alexa Duffy, who I cannot thank enough for allowing me to build this bike through baby naps and late nights in the shop.
Sheila was my first big twin build, but she won't be the last.
—Paul Duffy, Duffy Metal Works
Story by Paul Duffy
Photos by Elizabeth Kaminsky